Welcome to Mission Audio Visual, Kelowna's expert audio visual and home theater installers. Are you looking to create the perfect home theater setup with crisp, immersive surround sound? Look no further than Dolby Atmos. With its revolutionary surround sound technology, Dolby Atmos is truly a game-changer for any home theater out there.
Traditional surround sound systems are out, and this new, shiny Hi-Fi sound tech is in. Dolby Atmos takes audio immersion to a whole new level by adding a third dimension to the sound. What does third dimension sound even mean? Well, Instead of being limited to channels, Dolby Atmos creates a dome of sound around you, making you feel like you're right in the middle of the action, fully immersed in the scene you are watching on the big screen.
Traditional Surround Sound vs. An Atmos Speaker Setup
Conventional Speaker Arrangement
In a traditional sound system, speakers are strategically positioned around the room—usually in the front, sides, and rear—to create a horizontal circle of sound. While effective, these systems are limited in their ability to provide a full 360-degree sound experience.
Breaking the Horizontal Barrier with Dolby Atmos
Dolby Atmos takes this a step further by adding an overhead dimension to your audio setup. Instead of relying solely on speakers placed around the room, Dolby Atmos utilizes speakers installed in the ceiling or on top of existing speakers. This opens up a world of sound that isn't just around you but also above you, breaking the horizontal barrier that traditional systems are limited to.
Benefits of Dolby Atmos in Your Home Theater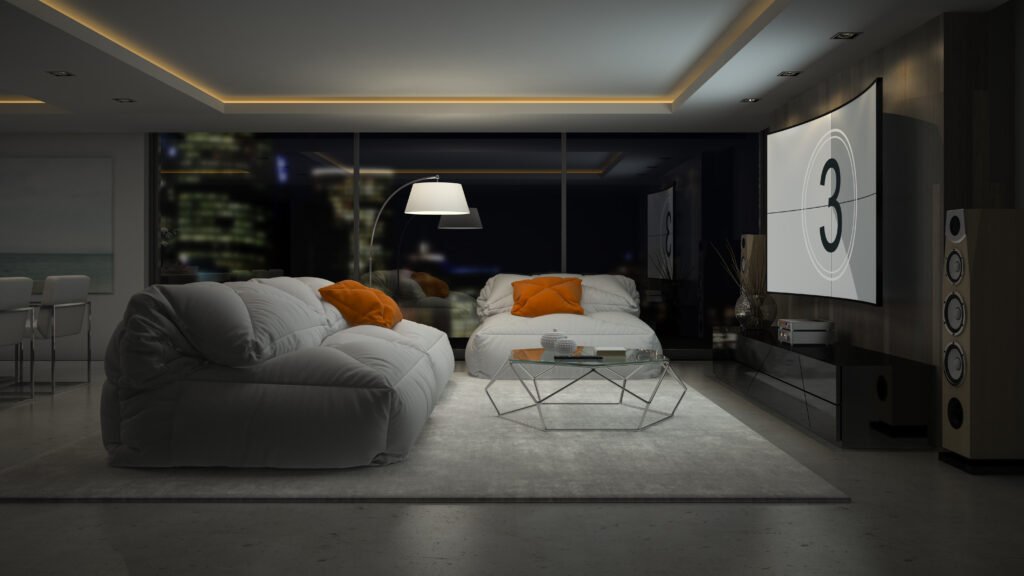 There are numerous benefits to incorporating Dolby Atmos into your custom home theater setup. Here are just a few:
Immersive Sound: Dolby Atmos allows sound to move freely around the room, creating a truly immersive experience. You'll feel like you're part of the movie or concert.
Heightened Realism: With sound coming from above, Dolby Atmos adds a new dimension of realism to your home theater. You'll hear every detail with astonishing clarity.
Expanded Soundstage: Dolby Atmos expands the soundstage, making it feel wider and more spacious. It's like having a professional-grade audio system in your own home.
Compatibility: Dolby Atmos is compatible with a wide range of audio formats, including Blu-ray, streaming services, and gaming consoles. You can enjoy the best audio quality no matter what you're watching or listening to.
Future-Proof: Dolby Atmos is the future of home theater audio. By investing in Dolby Atmos now, you're ensuring that your home theater setup is ready for whatever advancements come next.
Installating a Dolby Atmos system in your Theater Room
Installing Dolby Atmos in your home theater may seem like a daunting task, but fear not! Our team of expert audio visual installers at Mission AV are here to help. We have many years of experience in custom home theater installations and are well-versed in the intricacies of Dolby Atmos.
During the installation process, our technicians will carefully assess your space and determine the optimal speaker placement for the best possible sound experience. We will install the necessary speakers in the ceiling or on top of existing speakers, ensuring that every corner of the room is filled with immersive sound.
Once the speakers are installed, our technicians will calibrate the system to ensure that the sound is perfectly balanced and optimized for your specific room. We take pride in delivering the highest quality audio experience to our clients.
Conclusion
If you're looking to create the perfect home theater setup, Dolby Atmos is a game-changer. Its revolutionary surround sound technology will transport you into the heart of the action, making every movie, music, or gaming experience truly immersive.
At Mission Audio Visual, we specialize in custom home theater installations and are experts in Dolby Atmos. Contact us today to learn more about how we can transform your home theater into the ultimate entertainment experience.